2009 Press Releases
Folio Investing Introduces Its Defensive Strategy Folio
01/15/2009
VIENNA, Virginia – Investors have been told that buying an entire index—such as the S&P 500—is better than owning a smaller number of stocks, since diversification across hundreds of securities lowers risk by lessening the volatility from individual stocks.
But is it?
What investors may not realize is that there is an alternative to owning funds that invest in the entire market. That approach involves owning a smaller, but still intelligently diversified, portfolio of individual securities and, especially in turbulent times, investing in such a portfolio that is tailored to provide stability in highly volatile conditions. Compared to a fund, not only does such a portfolio provide benefits such as tax efficiency and customizable control over which securities are owned, but it can be specially designed to be lower in volatility—in other words, less risky.
About a year ago, Folio Investing, the innovative online securities firm, described a strategy designed to help investors deal better with substantial market volatility without having to buy an entire index, and launched an investment portfolio—the Defensive Strategy Folio—to demonstrate it. Defensive stocks have historically been less volatile than the overall market and tend to do better than the broad market during market downturns. The reasoning was they could also provide a safe haven during periods of market instability.
Was it possible for a passive allocation of large-cap stocks to dramatically out-perform the market in 2008?
Comprised of 17 individual stocks, the Defensive Strategy Folio has substantially out-performed the S&P 500 index since its inception. It has weathered the historic turbulence in the financial markets during 2008, thanks to its strategic selection of securities comprised of large-cap stocks in non-cyclical industries. These industries include health care, consumer goods, insurance and defense contractors, which have proved resilient (even if not immune) to significant market turbulence and declines, as they produce products and services that people always need.
The data: since late Feb. 2008, when the Defensive Strategy Folio was introduced, through 2008 year end, the S&P 500 was down 33.5%, but the Defensive Strategy Folio declined only 13.6%. And although the S&P 500 declined by 0.2% over the 3 month period, ending January 9, 2009, the Defensive Strategy Folio actually increased by 15.5% during that the same period: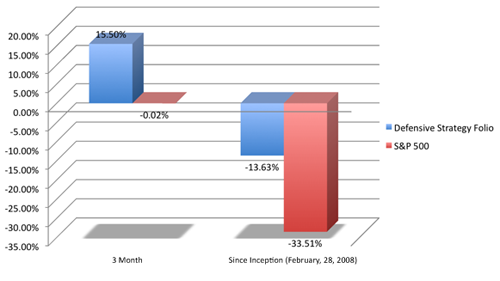 Note: Three-month results as of January 9, 2009. The Defensive Strategy Folio has been in existence for less than one year.
The Defensive Strategy Folio is one of over 100 Ready-To-Go Folios offered by Folio Investing. These Folios combine some of the best features of mutual funds, ETFs, and individual stocks, and may be bought, sold, or customized in a single transaction.
"For investors seeking to maintain exposure to the growth potential of equities, while limiting portfolio risk, the type of approach used to design the Defensive Strategy Folio could provide a good solution," said FOLIOfn founder and CEO Steven Wallman. "While the companies represented in the portfolio may have less potential upside than riskier portfolios when the market turns around, they also should be less volatile in down markets as the evidence shows."
In light of the stock market's performance in 2008, it is reasonable for investors to explore alternatives to buying and holding funds such as S&P 500 Index funds.
Folio Investing hopes to play a constructive role in helping investors select or develop their own investment portfolios that are better suited to their needs. To learn more about the Defensive Strategy Folio or other investment portfolios available through Folio Investing, visit us online at www.folioinvesting.com.
---
About Folio Investing
Folio Investing, a division of FOLIOfn Investments, Inc., is an online brokerage that enables investors to manage stocks, ETFs, and mutual funds as integrated investment portfolios called "Folios" that deliver better control, greater transparency, and lower cost. Investors can create their own Folios, much like creating personalized ETFs or mutual funds, or invest in over 100 Ready-to-Go Folios representing market indices, sectors, geographical regions, target dates, and more. The Folio Unlimited Plan features unlimited commission-free trading in twice-daily windows for only $29 a month or $290 a year. Ready-to-Go Folios can be managed or unmanaged, are not registered investment companies, and are offered by FOLIOfn Investments, Inc., a registered broker-dealer. FOLIOfn Investments, Inc. does not provide investment, tax, or legal advice. FOLIOfn Investments, Inc., is a member of FINRA/SIPC.
---