2010 Press Releases
Folio Investing's Defensive Portfolios Succeed in Wild May Market, Maintain Equities' Upside
Good Results in May's Rocky Market Affirm That Risk Can be Managed, Says Brokerage
06/08/2010
McLean, Virginia – Stock and bond portfolios specifically designed to provide protection through periods of high market volatility did just that during the highly volatile month of May, and demonstrated that an investor can build long-term value while avoiding wild swings in the market, according to Folio Investing.
The brokerage's Defensive Strategy Folio and Low-Volatility Folio are intended to provide relatively consistent performance through up and down markets. These types of portfolios may not gain as much in rising market conditions, but they have historically generated steadier returns in volatile periods than the broader market. Both Folios aim to help investors avoid the temptation of trying to time market movements.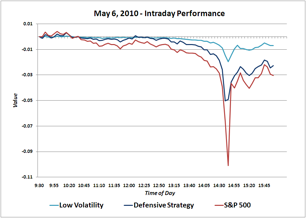 Despite the stock market's worst May performance since 1940, investors in these two Folios enjoyed relative stability last month.
During the "flash crash" of May 6, the Defensive Strategy Folio's largest intra-day loss was 5%—half that of the S&P 500—and the Low Volatility Folio's biggest decline during the day was only 2%.
The performance of both Folios over the past two challenging and highly volatile years was dramatically better than that of the general market. The Defensive Strategy Folio had a loss of 5.4%, one-fourth of the Standard & Poor's 500's loss of 21.4%. Meanwhile, the Low Volatility Folio actually had a positive return of 3.8% for the two-year period (through May 28, 2010).
"Investors are quite fearful, having experienced the bruising markets of the last two years, and we have seen enormous inflows into bond funds and out of stocks funds," said Geoff Considine, Ph.D., strategic consultant with Folio Investing. "But research shows that investors need some long-term exposure to equities in order to achieve sufficient wealth in their working years to be able to fund retirement. To be prepared to weather volatile markets, one option is for investors to build an equity portfolio that tends to provide protection from extreme market swings. Many investors are unaware that such a strategy is possible."
Folio Investing's Defensive Strategy Folio is composed entirely of stocks from asset classes such as consumer staples, public utilities and insurance, which tend to be less impacted by high volatility. The Low Volatility Folio combines a selection of low-risk stocks and equity ETFs with bond ETFs. Both Folios were launched in February 2008.
"Rather than achieving diversification by simply aggregating a number of holdings, the Defensive Strategy and Low Volatility Folios employ active diversification, in which holdings are specifically selected to have offsetting risks. These portfolios were also analyzed on the basis of historical performance in both low-volatility and high-volatility market conditions," said Considine. "These Folios have provided investors stability—a safe port in fair and foul weather over the past two years—and affirm this risk-management strategy."
---
About Folio Investing
Folio Investing, a division of FOLIOfn Investments, Inc., is an online brokerage that enables investors to manage stocks, ETFs, and mutual funds as integrated investment portfolios called "Folios" that deliver better control, greater transparency, and lower cost. Investors can create their own Folios, much like creating personalized ETFs or mutual funds, or invest in over 100 Ready-to-Go Folios representing market indices, sectors, geographical regions, target dates, and more. The Folio Unlimited Plan features unlimited commission-free trading in twice-daily windows for only $29 a month or $290 a year. Ready-to-Go Folios can be managed or unmanaged, are not registered investment companies, and are offered by FOLIOfn Investments, Inc., a registered broker-dealer. FOLIOfn Investments, Inc. does not provide investment, tax, or legal advice. FOLIOfn Investments, Inc., is a member of FINRA/SIPC.
---